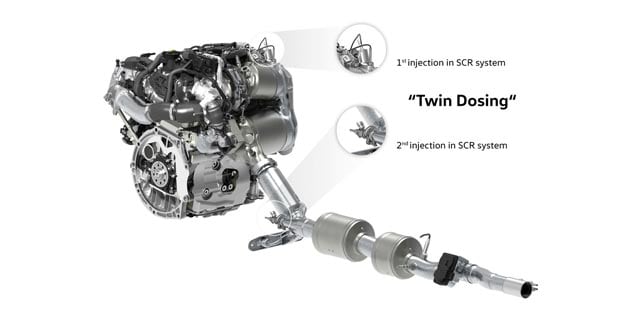 Volkswagen Harnesses the Power of Diesel
Diesel engines use less fuel than regular engines, plus they emit less CO2. That's good news. The bad news was that diesel fuel has also been identified as carcinogenic, and that's one reason why no one generally welcomes them in a lot of places. Realizing the advantages of a diesel engine setup, Volkswagen engineers and designers wanted to figure out a way to get all the advantages of the diesel engine without having any of the downsides. The great news is that they've found a way to reduce NOx emissions by 80%. How did this favorite automaker manage to do that? Take a look.
How Volkswagen Reduced NOx Emissions by 80%
SCR (selective catalytic reduction)is a Volkswagen creation alone. An aqueous reducing agent is introduced to the engine, creating ammonia NH3 in the converter. When this meeting occurs, the NOx becomes H20 and N2 emissions instead of NOx emotions. If that all sounds simple, it's because this is the shorthand for all the hard work from the folks at Volkswagen. The practical implication of this is that now you can enjoy the many benefits of a diesel engine without having to worry about spreading carcinogenic materials everywhere you go.
The emissions are healthier, less harmful, and you still get the remarkable performance and low-end torque produced by the diesel engine. Smoother acceleration is awesome, but it's even more awesome when you know that your NOx emissions are going to be reduced by 80%. Volkswagen is still hard at work attempting to figure out other ways to reduce the emissions even more. What Volkswagen owners hope is that in the future, they can eliminate even more of the NOx emissions and make diesel engines safer and cleaner for the environment than ever before. Only Volkswagen could have come up with this innovation, and we're eternally grateful to them for all the hard work they put in coming up with this.
Want More Information?
Reducing NOx emissions is a primary goal of many automakers today, but it's Volkswagen that's putting in the most time and having their hard work pay off. If you'd like to learn more about how Volkswagen managed to accomplish what they have, just give our dealership a call today or write to us with your questions. We'll give you more in-depth information about NOx emissions and how Volkswagen is working to eliminate them for good.