When the air conditioning system in your Volkswagen is not functioning as desired, your time in the car can be unpleasant. Many days in the local area are very warm or even hot, and you need access to a reliable AC system to enjoy driving around town comfortably on these days. However, there are times when your system may develop repair issues related to an extensive amount of wear and tear, dirty AC parts and more. Regardless of the signs of repair problems that your Volkswagen air conditioning system is exhibiting, feel confident that we can provide you with the fast, quality service that is needed.
Why Is My Volkswagen's Air Conditioner Only Putting Out Warm Air?
One of the more unpleasant AC issues that you can deal with is when the system blows warm air rather than cool air. When this happens, it may feel like the heater is on in the car rather than the AC system. Issues related to the AC valves, the fuses or the compressor clutch could create a steady stream of warm air blowing through the vents. If you notice that cool air immediately circulates in the car and turns into warmer air after a few minutes, several components could be causing the problem. This type of AC issue is often related to leaky vacuum seals or damage to the blower, compressor or condenser. Our certified Volkswagen techs have received specialized training on the repair of AC systems, so you can always expect great things when you bring your car to our service department.
Can You Improve the Weak Airflow From My Air Conditioner?

Another unpleasant issue that drivers could experience on the road is weak airflow from the AC system. There are many times when you need the air conditioner to function with moderate or even high airflow for your comfort, and a weak airflow issue can be frustrating. Some of the issues that could cause an airflow issue are broken seals, leaking hoses or evaporator case damage. We will quickly diagnose the situation to identify the best repair steps to take.
What Are Signs That My AC System is Leaking?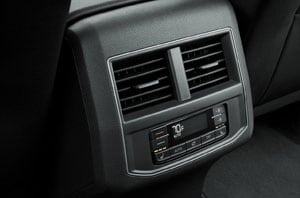 Even a tiny leak in your AC system's various components can be detrimental and may lead to the need for a full system replacement. This is because any compromised areas could let moisture into the system. AC refrigerant that mixes with moisture can become corrosive and result in severe damage throughout the system. Signs of AC leaks may be minimal at first, and they could include challenges related to temperature control or airflow that become increasingly bothersome over time. Understand that moisture that drips below the vehicle when or immediately after running the air conditioner is not a sign of a leak. This moisture is usually normal and should not be a cause for concern. If you have any concerns, a diagnostic service completed by our Volkswagen techs is a great idea.
Why Does My Car Smell So Bad When the Air Conditioner Is On?
When some AC components in your Volkswagen are dirty, the result may be smelly air blowing through the air vents. This smell could even linger when the AC is not running. The two primary causes of this problem are dirty air filters and mold on the evaporator case. Replacing the air filter and cleaning the mold could address the situation properly. Mold on the evaporator case is often caused by a blockage in a drain line, so this blockage will need to be removed as well. For these or other types of AC issues, rest assured that we have the equipment, tools and parts required to get your AC system functioning well again.
Service Hours
Monday

7:30 AM - 6:00 PM

Tuesday

7:30 AM - 6:00 PM

Wednesday

7:30 AM - 6:00 PM

Thursday

7:30 AM - 6:00 PM

Friday

7:30 AM - 6:00 PM

Saturday

7:30 AM - 5:00 PM

Sunday

Closed