If you're hoping to keep your brake maintenance cost low, make sure you stay tuned into your car's health. In addition to getting regular inspections, the following signs will tell you if your Volkswagen's brakes need care. While you're on our website, also make sure you view our current service specials to find out if we have any brake pad replacement coupons or other VW brake repair specials this month.
When to Change Brake Pads on My Volkswagen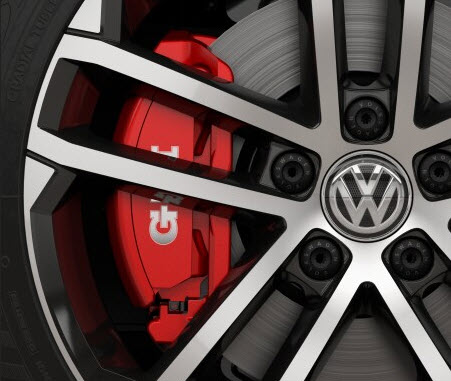 If you have your brakes examined on an annual basis, your mechanic can better keep you apprised of how thin your pads have worn. If they're down to 3mm or 2.5mm, we recommend not putting off having them replaced. In fact, at close to 2.5mm, you may start to hear a high-pitched screech when slowing down or stopping your car.
OEM VW brake pads are best for Volkswagen owners who want to use the best products on their cars. Cheap aftermarket brake pads my save you a little money, but are known to wear faster and offer less rust resistance. If your vehicle is in need of a brake pad change, visit our brake service shop in Orlando, FL.
Why Brake Fluid Flushes Are Necessary
Due to the fact that brake fluid is hydroscopic (i.e., moisture absorbing), it will reach a point of becoming less effective. Newer brake fluid is considered "dry," while brake fluid that has collected a certain percent of moisture is "wet." When in a wet state, corrosion and rust are much more likely. Additionally, wet brake fluid has a lower boiling point, which can result in problematic vaporizing. If this occurs and braking force is not properly transferred, there's a chance of brake failure.
For these reasons, we recommend having your fluid checked annually by our Orlando brake repair technicians to keep an eye on its condition, especially since we live in an area with higher humidity.
When to Change VW Brake Rotor Discs
At our brake service shop in Orlando, we've seen some pretty bad rotor problems. To avoid issues with your discs, take care to have your brake pads replaced on time; once they've thinned out, you may experience grinding, which scores rotors and leads to more costly repairs.
In addition, if you notice your car pull to one side or vibrate when braking, this may indicate that you have warped or uneven rotors. Pulling may also be the result of a stuck brake caliper or issues with tires and alignment, so bring your car to us for a professional diagnosis.
Need Brakes for a VW Beetle, Golf, Jetta or Another Model?
Our VW brake repair technicians can assist you with your next brake pad replacement or fluid flush! Schedule an appointment at Orlando VW North's auto repair center, and don't forget to check and see if we have any brake service coupons available this month. If you're shopping for parts, you can also order OEM VW brake pads in Orlando right on our website, along with other brake parts.