The tires on your Volkswagen require regular care and maintenance. Rolling along the hot pavement in Florida can be damaging, which can result in unsafe conditions, so it's important to get them checked out. To keep your new Golf, Jetta or Tiguan in good condition, regular tire service, repair and replacement should be performed when recommended by a qualified mechanic.
Is It Time for Tire Service In Orlando?
When caring for your car, it is important to take tire maintenance into consideration. Regular rotation, balancing and alignment of your tires assures that your car continues to keep you and your passengers safe. Bringing your Volkswagen to our auto shop in Orlando allows our service professionals to give your tires the best care.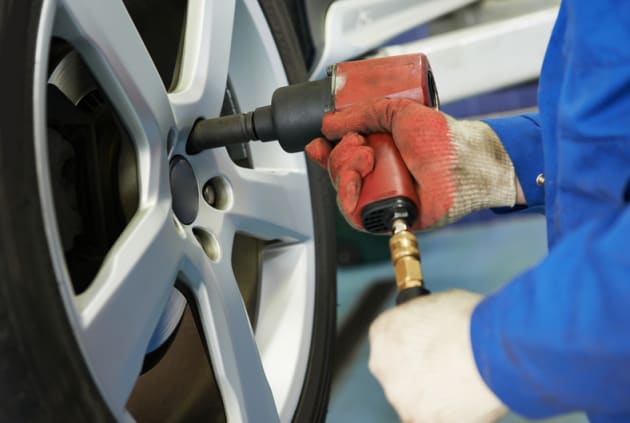 There are several good rules of thumb when it comes to tire service and replacement. It is recommended that tires be rotated every six to eight months, or 6,000 to 8,000 miles. This regular tire rotation in Orlando will even out the wear on each tire, so that one doesn't need replacing before the others. Tires need to be balanced about every three to six months and aligned once a year. This practice will make sure your wheels are straight and return to center when the steering wheel is released.
For replacement, tires are often used for around five years, but should not be used for more than 10 years. A good test to tell whether it's time for a replacement is the Penny Test. By placing a penny with Lincoln's head down into the tread of the tire, you can determine if the tread is at an unsafe level by checking to see whether Lincoln's head is uncovered. If it's uncovered, it means that your tread is less that 2/32 of an inch and that it may be time for a replacement.
There are several other symptoms that indicate when it may be time for tire repair service in Orlando:
Vibration of the steering wheel when driving at highway speeds
Bulges in your tires
Scratches and markings on the sides of your tires
Visible wear indicator bars
Choose Orlando VW North for Tire Service
Orlando VW North is dedicated to providing excellent and efficient service to suit your needs. Our tire shop in Orlando is staffed with maintenance professionals who are knowledgeable and equipped with the proper tools to perform service on your tires, ensuring your safety and that your car is in the best condition.
If you're in need of Volkswagen Passat, Jetta, Beetle or WRX tires, we've got you covered. Stop by soon for service!