If your choice is to have a car, owning one is something that comes with a lot of responsibility. That responsibility includes maintaining its value. After all, it's an investment that needs to be protected. It's important to take extra steps, as well as precautions, to ensure that the value of your car has the potential to last for many years. There are always going to be things out of your control; however, there are specific actions you can take on a regular basis, which is painless and actually easier than you might realize!
Watch Out For The Ding Bandits
Have you ever parked in a space -just this once- where there wasn't any other car on either side and felt confident no one would ding the exterior? What did you see when you returned? A ding, right? Murphy's law strikes again! Perhaps you thought that was the one time you were safe from the "ding bandits!" It's a good idea to park as far away from other cars as you can to avoid dings, scratches, and dents. You want to keep your distance from other car doors and shopping carts. Unfortunately, not everyone is honest enough to leave a note. After all, it's only a ding. But, too many of those mishaps can reduce the value of your car in a big way. For most potential buyers, the appearance of a car is second in value to the engine, and the interior is third.
Regular Schedule Maintenance
The maintenance of your car is extremely important. Do you have a regular maintenance schedule set up? If not, today is the day to start. Regularly scheduled maintenance includes, but not limited, oil changes, winterization, tires rotated, fluids checked, brake inspections, transmission service, and even tune-ups. You may think that it doesn't matter because eventually you get it done and catch up sooner or later, but to a potential buyer, it means everything. When you sell your car, one of the first things a potential buyer will ask is: "Have you kept up with the regular maintenance?" And the defining truth will be in the way it drives! It's advantageous to schedule appointments well in advance, especially because most dealerships give you the flexibility to schedule online using a service scheduler. If not, use your cell phone calendar notifications to add recurring dates for each maintenance requirement.
Maintain All Entities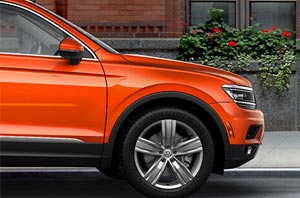 Remember that your car has value to the dealership for your trade-in offer. Contrary to most people's belief, the dealership actually does want to give you full value for your trade; however, they assume all of the risks for getting a return on their investment, when the car is sold. Do yourself a favor by maintaining all entities of the car. The interior should be cleaned on a regular basis, along with the exterior. You should also use original equipment manufacturer (OEM) parts as much as possible, if not exclusively. This is important to potential buyers, including the trade-in dealership, but more importantly, it actually helps to maintain the car's value and longevity. There is a good reason why you don't see "ACME" on the engine parts. Automakers spend a lot of time, money and testing, to know how to get the most value by integrating certain elements into the parts used.
Stop The Dealership Near You Today
Contact the staff at Orlando Volkswagen North to find out more information! Our team of knowledgeable professionals is the reason for the dealership becoming one of Orlando's high-rated dealers, for new and used cars. We're dedicated to the community for assisting in car ownership, as well as contributing to charities and those who are in need within the community. Stop by soon, or reach out by phone or online chat!