The Taos is a new SUV from Volkswagen with an adventurous design and comfortable interior. While the Taos comes with many great standard features to start with, it can be further enhanced and customized with accessories and add-on features to give you an even more personalized ride.
Basecamp Accessory Package
One notable package that you can get to upgrade the Taos is a Basecamp Accessory Package. This package is primarily a cosmetic package that enhances the SUV's exterior design. The Basecamp package gives your Taos a striking look with exaggerated fender flares and integrated splash guards. This comprehensive package also includes an updated front grille with a Basecamp badge, and it has custom side plates on the lower door. The package is available for new models, and most parts are installed by the dealer except for the Basecamp badge, which is available as an add-on option for the package.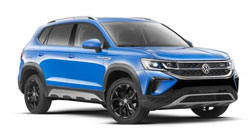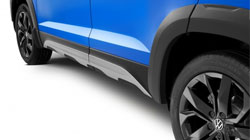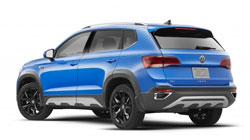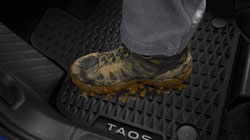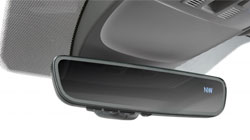 General Taos Accessories
Along with the features in the Basecamp package, the Taos can be further enhanced with a variety of add-on accessories and components. You can get a variety of options to upgrade both the cabin and the exterior of your VW, depending on your personal preferences and lifestyle needs. To protect and enhance the interior, you can choose from several different types of floor mats that give the cabin a presentable appearance while keeping it clean and protecting the interior components from excessive wear and dirt exposure. On the outside, the Taos can be equipped with special protective guards for the rear bumper that protects against scratches and dings from other vehicles or if you are loading and unloading cargo.
Technology and Communication
Another option to enhance your VW is Technology and Communication accessories. You can get media cables of assorted lengths for your VW, including several different kinds of USB charging cords. Some USB charging ports have the ability to convert power as well. You also have the choice of getting audio system upgrades through the Technology and Communication package to enhance the sound system in your SUV.
Cargo and Transportation
Your VW can also be accessorized with cargo and transportation accessories. When you want to go on an adventure, chances are good you'll be bringing equipment along for the ride. The VW Taos can be outfitted with a number of amenities accordingly. Some additional add-on items that you can get for your car include a base rack, bike rack, and boat rack.
Contact our dealership to learn more about accessories for your VW Taos.