Quality Volkswagen Golf Research From David Maus VW North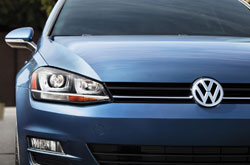 There is a reason the words "German engineering" are spoken with a kind of reverence. Somehow, German engineering made the Golf lighter but larger, more powerful but more fuel-efficient and more spacious but more nimble. 2015 Volkswagen Golf reviews say the newest Golf highlights VW engineering at its best. Is it any wonder US News and World Report chose the 2015 Golf as their number one pick in in two different categories? Oh, and did we mention that the VW Golf Family of cars just won the 2015 Motor Trend Car of the Year Award? It really is that good.
Check out the 2015 Volkswagen Golf in Orlando. The new Golf comes with an upscale look to its interior, using high-quality materials and abundant soft-touch surfaces. The new cabin provides more shoulder room in both rows. There are lots of innovative storage spaces, including a driver's side mini-glovebox.
Generous standard features include power windows and door locks, air conditioning, a touch-screen infotainment system, Sirius XM satellite radio, Bluetooth and a media-device interface with iPod integration.
The Golf TSI is equipped with a 1.8-liter turbocharged four with 170 horsepower. If you're out for fuel economy, look for the Golf TDI's 2.0-liter turbodiesel, rated at 150 horsepower. 2015 Volkswagen Golf reviews say the performance-oriented Golf GTI is the hot hatch. It now sports VW's 2.0 TFSI engine, which cranks 220 horsepower and 258 pound-feet of torque at only 1,500 rpm.
Cargo space has always been an appealing feature of the Golf. You'll find 16.5 cubic feet below the hatch's parcel shelf and 22.8 cubic feet if you pile it up to the roof. That is far more than offered even by full-size sedan standards. Fold down the rear seats and you have 52.7 cubic feet of available cargo space. A low loading floor makes lighter work of moving cargo in and out of the back.
It took Americans a while to work up an appetite for hatchbacks. The hatchback is in full flower now though, with every major manufacturer, foreign and domestic, weighing in with entries in virtually every vehicular class. As is so often the case, German engineering was way ahead of the game. We are betting one test-drive will make a VW enthusiast out of you. See the 2015 Volkswagen Golf in Orlando at David Maus VW North.