Orlando VW North's 2015 Jetta Review and Research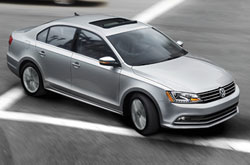 2015 Volkswagen Jetta reviews say the refinements brought to the new version make an already sweet car even more impressive. With so many engine choices and trim levels, the VW sedan can be many things to many different buyers. It provides what might just be the most usable amount of interior space in the compact class; delivers impressive performance, safety and fuel economy; and packs in lots of features, all while keeping the price point surprisingly low.
Plant yourself behind the wheel of a 2015 Volkswagen Jetta in Orlando. You won't believe they call this a compact. The Jetta has more back-seat space and even more trunk space than some mid-size cars. The Jetta's cabin is as straightforward as its exterior, composed of clean lines and well-organized controls that are logically positioned. The big round gauges are situated nicely and easy to read. The flat-bottomed steering-wheel design includes multifunction buttons to increase hands-free safety.
All Jettas come with an AM/FM/CD player with an auxiliary jack; power windows, locks, and mirrors; the cool multifunction steering wheel; and air conditioning. With multiple trim levels an option packages, there is plenty more to be had, including some of the most cutting edge technology, safety and creature comforts. But it is in the powertrain department where this compact starts to show its versatility.
If you'd like to check out the entire universe of 2015 Volkswagen Jettas in Orlando, make sure you free up a good chunk of time. This could take a while. The Jetta offers a multitude of powertrains, not only gasoline and diesel, but also a hybrid version. The base 2.0-liter four-cylinder engine generates 115 horsepower and 125 pound-feet of torque. The 1.8-liter turbocharged four-cylinder yields up 170 hp and, more importantly, 184 lb-ft of torque. The TDI is a turbocharged 2.0-liter four-cylinder diesel engine that generates 150 hp and 236 lb-ft of torque. For sporty performance, the Jetta GLI packs a turbocharged 2.0-liter four-cylinder engine rated at 210 hp and 207 pound-feet of torque. Finally, there is the Jetta Hybrid, powered by a turbocharged 1.4-liter four-cylinder engine that works in tandem with a 20kW electric motor. The gas-electric motors stack up 170 hp and 184 lb-ft of torque.
The 2015 VW Jetta comes standard with six airbags, traction and stability control, antilock disc brakes, front side airbags, side curtain airbags and active front head restraints, and tire pressure monitors. The Jetta also features a crash-response system that shuts off the fuel and activates the hazard lights following airbag deployment.
As 2015 Volkswagen Jetta reviews say, no matter what flavor Jetta drivers want, they're not likely to be disappointed. With a spacious and comfortable cabin, a powertrain for every kind of driver and excellent technological touches, the Jetta offers a lot of value for the money.