Check Out the New 2015 Passat From Orlando VW North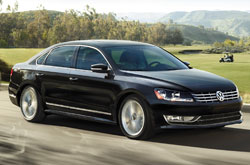 2015 Volkswagen Passat reviews agree that in a highly competitive segment, only the Passat offers a high-mileage diesel engine, boasts limousine-like rear-seat legroom, and has the exceptional handling that showcases its German engineering.
The midsize family sedan segment sometimes can be a confusing place for cars and customers. Some models aim for performance and others try for limousine-like comfort. The result is often a muddle, leaving choices of milquetoast performance or merely tolerable comfort. But VW is in the business of prevailing, and business is good. The Passat deftly incorporates both comfort and performance as if it were a premium German-engineered car costing thousands more.
Test-drive a 2015 Volkswagen Passat in Orlando. You'll find it cruises down the highway with a smooth, solid and quiet ride. Point it at a twisting road, and you'll discover pleasingly athletic performance. The new base engine is a 1.8-liter 170-horsepower turbocharged 4-cylinder that has plenty of verve for the curve. If you want more straight-up muscle, trust the people who invented the Autobahn. With a top speed of 130 miles per hour, the 280-horsepower, 3.6-liter V-6 version leaves the competition in its vapor trail. If the idea of driving about 700 miles on a tankful of fuel appeals, look for the remarkably efficient 2.0-liter turbodiesel four.
The Passat doesn't compromise on space and comfort, either. 2015 Volkswagen Passat reviews say the Passat is as big as it can be and still qualify as a mid-size sedan. Seats are comfortably bolstered and headroom is generous in both the front and back thanks to the upright styling. VW has refused to sacrifice space to follow the swoopy roofline fad.
Standard safety equipment on every Passat includes all the usual airbags and stability control; a hill-holder function for manual-transmission models; and Bluetooth, to enable hands-free calling. Moreover, the Passat offers something very typical of German practicality: it gives the driver excellent visibility all around. That's unusual in the day of sloping rooflines and thick pillars more common to the class.
With German-tuned driving dynamics and three responsive and efficient engine choices, a spacious interior and a stellar safety record, the Passat offers a lot for the money. See the 2015 Volkswagen Passat in Orlando at Orlando VW North.