Orlando Volkswagen Dealer Researches the New Eos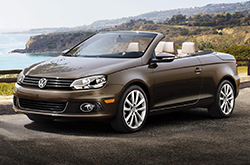 This is your last chance to hop into the Eos hard-top convertible before it ends production and it's offered at a lower cost than ever, with its manufacturer price reduced by $4,000.
We know what you're thinking: If it's being discontinued is it worth purchasing a 2016 Volkswagen Eos in Orlando, but often the fact is that popular vehicle models are pulled from the market for reasons outside of their quality and value, and often to make way for possible new models. In this particular case, Edmunds.com's 2016 VW Eos review says it's a car that shouldn't be overlooked, noting:
"With the features and build quality of more expensive luxury convertibles, the VW Eos is a smart choice for drop-top sun seekers ... [I]f it's the hardtop you really need, the Volkswagen Eos is your choice."
While soft-tops may be in vogue right now, several convertible lovers simply prefer hard-tops and the Volkswagen Eos is among the best. It's also the only option with four seats, meaning you can share your sun-seeking adventurers with all your friends. Edmunds.com also calls the Eos' top "innovative" and says that when it's fully retracted the car's intelligent design minimizes wind noise, so you don't have to shout to hold conversations or turn the audio volume way up when listening to music.
If you consider taking home a 2016 Volkswagen Eos in Orlando, Florida, know that only a limited number are offered, so you'll want to make a purchase sooner than later. In its final model year, Eos is available solely in Komfort trim levels, which come with a long list of features, including: Bluetooth phone/audio, Car-Net telematics, a navigation system, satellite radio, dual-zone automatic climate control and much more. The standard powertrain includes a 200-horsepower turbocharged four-cylinder and six-speed DSG automatic with manual-shift capability.
After seeing the rest of Orlando VW North's 2016 VW Eos review below, stop by to test drive a Volkswagen Eos in Orlando and see if it's the right convertible for you.