Volkswagen Jetta Review for 2016 Model Year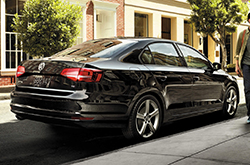 A few new features infiltrate the 2016 Volkswagen Jetta lineup for the latest model year, boosting the overall driving experience. Several new driver assistance features are now available across the roster, an upgraded infotainment system equipped on all models and a new 1.4L TSI engine replace the previous 2.0L engine. Aside from these changes, the Jetta GLI model has received a makeover this year and sports aggressive new styling. Take a look at our 2016 Volkswagen Jetta review below to find out more details about the revised GLI model and fresh components offered across the Jetta lineup.
If you're thinking about purchasing an all-new 2016 Volkswagen Jetta in Orlando, you're sure to be impressed by its recent updates. Brand-new MIB infotainment systems with USB are now on all models in the lineup and each one also comes with VW Car-Net App-Connected, aside from the base TSI and TDI models. In addition to this new feature, the latest Jetta is available this year with four new driver assistance technologies: Adaptive Cruise Control, Autonomous Emergency Braking, Automatic Post-Collision Braking System and Forward Collision Warning. The Jetta GLI model also bears a fresh exterior design for 2016 that comes complete with a dramatic front fascia, a honeycomb grille and foglights, chrome-tipped exhausts, a diffuser and a specially tuned sport suspension.
The Jetta 1.4T, 1.8T, GLI and Jetta Hybrid all come with different powertrains for the 2016 model year. The 1.4T comes with a turbocharged 1.4L four-cylinder, delivering 150 horsepower and 184 lb.-ft. of torque, while the 1.8T features a turbocharged 1.8L four-cylinder, outputting 170 horsepower and 184 lb.-ft. of torque. The sporty GLI comes equipped with a 210-horsepower turbocharged 2.0L four-cylinder generating 207 lb.-ft. of torque, and the fuel-efficient hybrid is fitted with a 1.4L turbocharged engine and electric motor that work together to provide 170 horsepower and 184 lb.-ft. of torque. With an EPA rating of 44 mpg combined, the 2016 Jetta Hybrid in Orlando produces the best fuel economy out of the bunch.
To learn further details about the Jetta's updates and specs, scroll down and keep browsing our 2016 Volkswagen Jetta review.