Volkswagen Dealership in Orlando Reviews the 2016 Passat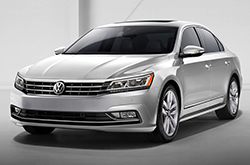 The 2016 Volkswagen Passat is now offered in five trims this year: S, R-Line, SE, SEL and SEL Premium. The R-Line is a brand-new model for 2016 and it comes with a variety of sporty components modern buyers will find appealing. Aside from this new model, the Passat is available with new driver assistance technologies and a couple new standard features that aim to improve the driving experience. The full-size sedan also gains new headlamps, taillamps, sheet metal, wheels and an updated instrument panel this year, enhancing its overall appearance. To find out more info about the new Passat and its offerings, take a glimpse at our 2016 Volkswagen Passat review below.
Revised for the new model year, the 2016 Volkswagen Passat in Orlando is looking its absolute best. For 2016, a standard USB port has been added to all models along with a rearview camera that helps improve safety. On top of these modifications, the sedan now offers new driver assistance features, including blind-spot monitor, frontal collision warning, automatic braking and lane departure warning. These technologies work to prevent avoidable accidents and greatly benefit drivers who could use extra assistance while on the road.
A standard 1.8L turbocharged four-cylinder engine powers the 2016 Volkswagen Passat in Orlando. Generating 170 horsepower and 184 lb.-ft. of torque, the displacement is matched with a six-speed automatic transmission and delivers an EPA-estimated 29 mpg combined, 25 city and 38 highway. This engine can be found on all models aside from the SEL Premium which sports a 3.6L V6 powerplant. Producing 280 horsepower and 258 lb.-ft. of torque, the V6 is supported by a six-speed automated manual and produces an EPA-estimated 23 mpg combined, 20 city and 28 highway.
Look over our 2016 Volkswagen Passat review below for further information about the new Passat and its features.