Learn More About the New Touareg From Orlando Volkswagen North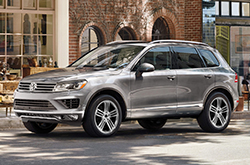 The brand-new 2016 Volkswagen Touareg is fresh on the market this year and it's packed with a variety of top-notch features and amenities that buyers will find beneficial. Several new safety technologies are now available on the Executive model, as well as a new wheel package. Additionally, the Driver Assistance Package on Sport with Tech models adds a new feature, and for 2016, the Touareg Hybrid model has been discontinued. Be sure to glance over our 2016 Touareg review for more information regarding the new model and its various amenities offered across the lineup.
When it comes to features, the 2016 Volkswagen Touareg in Orlando comes with plenty this year. The Lux and Executive models now come with 14-way adjustable ventilated seats and are available with a brand-new 21-inch wheel package. Additionally, the Executive model offers Adaptive Cruise Control, Forward Collision Warning, Lane Departure Warning and Autonomous Emergency Braking this year. The available Driver Assistance Package also now comes with Park Distance Control, which helps drivers easily maneuver in and out of tight parking spaces.
Generating 280 horsepower and 266 lb.-ft. of torque, a 3.6L V6 engine is outfitted on all Touareg VR6 models. It comes standard with an eight-speed automatic transmission and produces an EPA-estimated 23 mpg highway. The 2016 Touareg TDI model gets a 3.0L diesel V6 engine, producing 240 horsepower and 406 lb.-ft. of torque, and is supported by an eight-speed automatic that delivers an EPA-estimated 24 mpg combined, 21 city and 29 highway. With the ability to tow 7,716 pounds when properly equipped, the 2016 Volkswagen Touareg in Orlando is top-of-the-line SUV you'll want to get your hands on.
Scroll down and continue to browse our 2016 Volkswagen Touareg review for more details about the new model. You'll also find a 360-degree video review of the SUV, highlighting its exterior and interior styling.