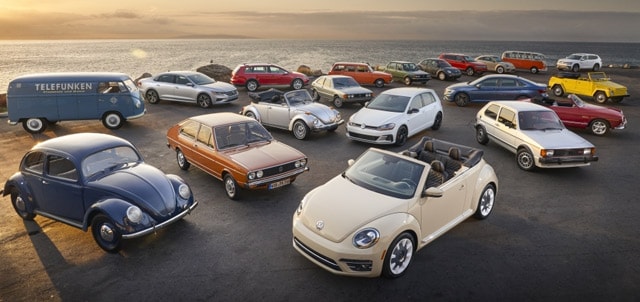 Back in 1949, a Dutch businessman by the name of Ben Pon arrived in New York with two vehicles. These vehicles would later become known as the Volkswagen Type 1 Beetle. This was a groundbreaking event because no auto manufacturer in America had marketed any kind of small or compact vehicle. The German automaker has gone on to sell over 17 million vehicles over the years. A few months ago, Volkswagen celebrated their 70th anniversary in America. A celebration took place at the 2019 Los Angeles Auto Show.
The Volkswagen Beetle has become an iconic vehicle in American history. For the past 70 years, not a lot of changes have been made to its original design. Technology has been kept to a minimum, the exterior styling has stayed true to its original concept, and people still love the Beetle just as much as they did years ago.
Scott Keogh is the current president and CEO of Volkswagen of America. He looks forward to the future. Volkswagen can work towards bigger goals as they look to create electric vehicles. Volkswagen announced that they will now retire the Beetle. With changes in the vehicle market, sales are now declining. Volkswagen broke ground this fall on an $800 million expansion to its main plant where electric vehicles are assembled.
If you would like to get your hands on a Volkswagen Beetle before they are retired, you can stop down to David Maus Volkswagen North. We feel very strongly about this iconic vehicle, and we can try to track down what you're looking for. We can also help you sort through the other Volkswagen models that are on our lot right now. We pride ourselves on a very diverse inventory of vehicles.
We look forward to helping you find a vehicle that will work with your budget and needs.